The Real Racing Experience has been formed in order to offer our customers a chance to experience real racing at a fraction of the cost of owning your own equipment.
We provide everything for your "Need for Speed". Racing takes place on Tuesday evenings at our home track, Sudbury Kartways on Notre Dame, next to the Bus depot.
The track will be closed to the general public, only our racing karts will be allowed on the track.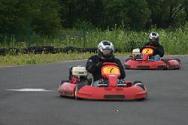 Real Racing, although a new concept for Sudbury, has existed for many years in Europe and more recently in Canada. Most people associate go-karting with family fun on your local go-kart track where you can show up hop in a "rental kart" and have a blast going around the track.
There is another side to "karting" and that is "kartsport" or organized kart racing. These are high speed (up to 80 km/h) professionally tuned Italian race karts designed to offer the driver a sense of what real racing feels like for a fraction of the cost.
The Real Racing Experience is very similar to a kart racing club (www.sudburykartclub.com), including instruction, practice, qualifying and racing with on track officials, rules and regulations, timing and a print out of your days results as well as championship points standings and awards. All supplied by Real Racing as part of your Membership, licensing and race event fees.
Our intent is to grow the sport of kart racing with the hope of sharing what all karters already know as "MOTORSPORTS BEST KEPT SECRET", Kartsport!!